A day-long program was organized at Daffodil University's permanent campus in Savar to support local underprivileged children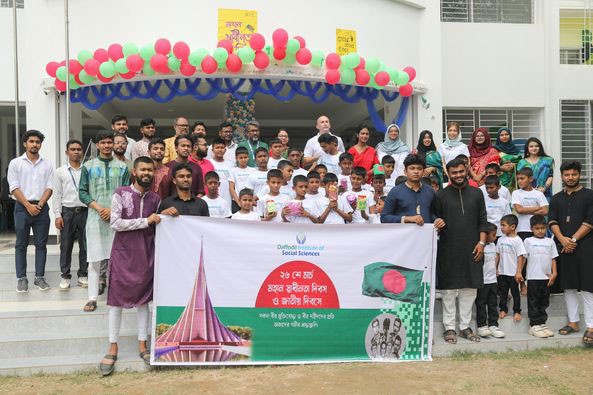 Acteus representatives, DISS officials and children take part in a photo session during a program at DIU permanent campus at Birulia, Savar on Sunday, March 26, 2023 Mehedi Hasan/Dhaka Tribune
Via its charity initiative "Acteus Smiles", Acteus Group is solidifying its presence in Bangladesh through a new partnership with DISS to promote children education in the country. The Group made a donation to Daffodil Institute of Social Sciences (DISS) in support of underprivileged children on Sunday.
On this occasion, a day-long program was organized at Daffodil University's permanent campus at Birulia, Savar, on the Independence and National Day of Bangladesh.

The day-long program was attended, among others, by Acteus Representatives Qhaleeda Ibrahim, Wichita Wanarom, and Yann Bary, Daffodil International University's Senior Assistant Director of Career Development Center (Permanent Campus) Dilzeb Kabir, and Science and Information Technology Faculty Professor Dr Shaikh Muhammad Allayear.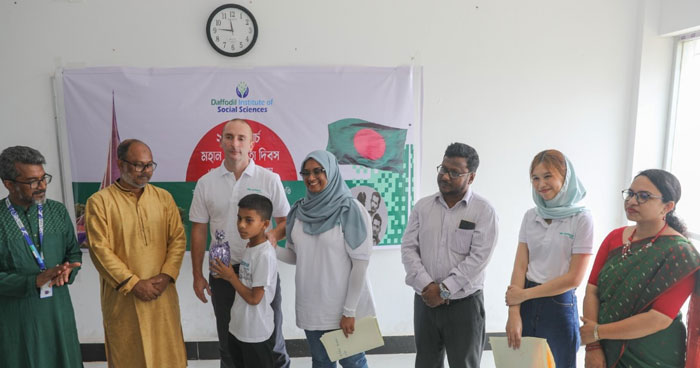 The DISS is a non-profit organization that started its journey in 2020. It was established based on India's Lok Sabha Member Dr Achyutananda Samanta, who is also the founder of Orissa Kalinga Institute of Social Sciences (KISS), in 2018 through the "Daffodil Foundation".

DISS works with the aim of establishing the rights of the underprivileged children, providing them with physical, mental, and moral development, formal education, sustenance and preparing them as skilled manpower dependent on modern technology.
DISS provides home to 46 orphans aged between 5 and 13. Under the latest program, the DISS will get long-term support for the development of these boys.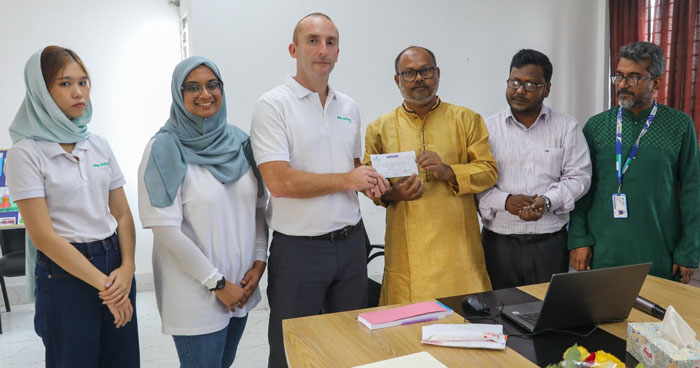 Acteus representatives, DISS officials and children take part in a photo session during a program at DIU permanent campus at Birulia, Savar on Sunday, March 26, 2023 Mehedi Hasan/Dhaka Tribune
The day-long event was chaired by DISS' Project Manager Md Jahangir Hossain with their team of dedicated staff and volunteers. These volunteers are students of Daffodil University pursuing their tertiary education in multiple discipline, showing a good role model to these children. Jahangir presented a keynote paper about DISS activities and future plans to the donators. The day went by with the children took part in drawing competition, sports, and cultural performances. They were given prizes for their outstanding participation.
He said: "We started on a small scale. Gradually the range, number of children and facilities will increase. Currently, we have 46 boys. Those aged between 5 and 13. Moving forward, the DISS will be a safe haven for 400 boys and girls between 2023 and 2026." He thanked "Acteus Smiles" for their support.
Acteus Group CEO Yann Bary and DISS officials signed the donation particulars.
Acteus has been active in Bangladesh in several industries since 2015. Other than business dealings with several organizations, Acteus has regularly supported various organizations for humanitarian purposes, through its corporate social programme " Acteus Smiles". The company's vision through Acteus Smiles is to support organizations for women empowerment and underprivileged children. "We are working and doing business investing in Bangladesh for the last eight years," shared the CEO.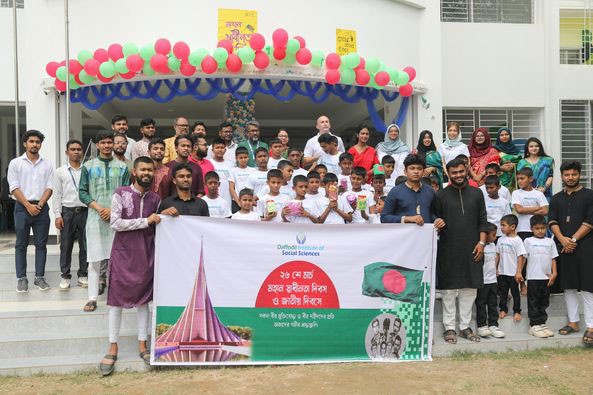 Acteus representatives Qhaleeda Ibrahim, Wichita Wanarom, and Yann Bary, and Daffodil International University (DIU) officials Dilzeb Kabir and Prof Shaikh Muhammad Allayear during a program at DIU permanent campus at Birulia, Savar on Sunday, March 26, 2023 Mehedi Hasan/Dhaka Tribune
"Basically, our purpose is we give back to the communities where we conduct our business and try to help the Bangladesh government and 'Acteus Smiles' will help DISS as much as possible to help and educate abandoned children. DISS currently provide a safe haven for children, we wish for all that this amazing work grows further ahead."

He added: "Earlier, we have had a regular long-term partnership KNH Ahsania Center for abandoned children and destitute women for four years. Now under the DISS II Fellowship, we're engaged in a long-standing relationship. We sincerely hope that the partnership with DISS will grow together with their expansion plan."